Advertisement
---
OPINION: This article may contain commentary which reflects the author's opinion.
---
President Joe Biden attempted to own his Republican opponents in a Twitter post earlier this week as the White House and GOP-controlled House remain at odds over what to do about the approaching debt limit and initially wound up in some trouble on the platform.
"America is not a deadbeat nation. We have never, ever failed to pay our debt. But MAGA Republicans are engaged in reckless hostage-taking by threatening to force America into default. It's dangerous and wrong," Biden wrote.
A short while later, Twitter posted several articles that appeared to fact-check the president under the line: "The United States has defaulted on its debt multiple times."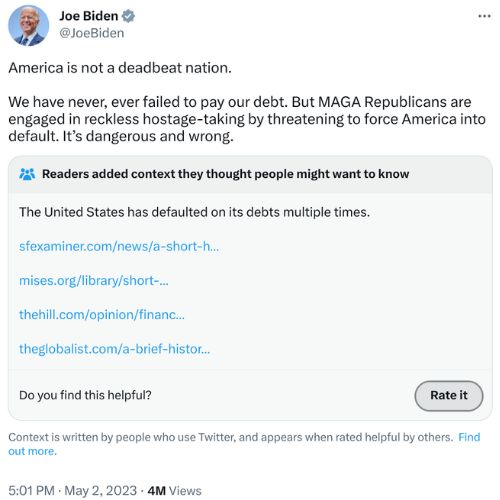 The community notes message, however, has since been removed, but not before Biden's text was mocked by users online.
"Seeing all the Twitter Context is even better than the ratio," one user wrote.
"How does that fact check taste?" another asked.
"Fact checking is fun when it's not manipulated by dystopian propagandists," another wrote.
It's likely that the fact check was removed because they may be some confusion as to what actually constitutes a debt 'default.'
According to CNBC: "The U.S. has defaulted on its debt just once before, in 1979. A technical bookkeeping glitch resulted in delayed bond payments, an error that was quickly rectified and only affected a small number of investors, the Treasury said."
But in an October 2021 column for The Hill, Alex J. Pollock, who served as the principal deputy director of the Office of Financial Research for the U. S. Treasury, claimed the U.S. has actually defaulted four times:
The GOP-controlled House has passed a bill that raises the debt ceiling but also calls for significant cuts in spending. Democrats who control the Senate have responded by complaining that the cuts are too deep, while the White House has said President Joe Biden won't sign the bill in its current form, The Associated Press reported.